Engineered Real Wood Flooring From Value Carpets and Flooring
Value Flooring & Carpets are experts in engineered real wood flooring in Erdington, Birmingham, Sutton Coldfield and across the West Midlands.
What is Engineered Real Wood Flooring?
Engineered real wood flooring is a multi-layered plank with a final layer of solid wood on top. 
You still have all the natural beauty and character of wood, but in an easier to install and it is much more stable in form. Engineered floors are much less susceptible to change in varying temperatures and humidity than solid wood floors and can be used in conservatories and over under floor heating systems (unlike traditional solid woods). 
Engineered floors can still be sanded down and refinished if required and come in a huge variety of colours, finishes, plank sizes and species.
Solid Real Wood Flooring in Birmingham
We offer a large range of solid real wood flooring in Birmingham and across the West Midlands in a variety of styles, widths and surfaces. Solid wood is the ultimate in luxury flooring. Hard wearing with the feel of true quality, solid wood can last a lifetime! 
And it's versatile too! 
Solid Real Wood Flooring can be sanded and stained to a different colour or have new finishes applied such as lacquer, oil or wax. The possibilities for a wooden floor are virtually endless, and can change as often as your style does. The beauty of solid wood flooring is that it has a natural warmth and individuality. Every plank is unique in it's grain and appearance for a very special finish indeed. And the icing on the cake? It can even add value to your home!
What Are The Advantages of Real Wood Flooring?
Real Wood Flooring offers the following benefits: 
Solid wood flooring is the most traditional and luxurious type of flooring plus it adds real character and warmth to your home.

Planks are made from just one solid piece of hardwood.

Solid wood flooring has a long life expectancy which offers timeless and charismatic appeal.

It ranges from light to dark with different patterns and grains.

You can find planks of solid flooring in random lengths and different widths which means you can choose something to suit your surroundings.

We give you the choice of unfinished or pre-finished planks of solid wood flooring.

They are also incredibly durable when compared with carpet which can require frequent repairs, cleaning and replacing.

Solid wood flooring can last a lifetime without being replaced plus it attracts less dust, allergens and mould than its alternatives.

This type of flooring is a great way to give your home or office a warm, rustic and natural feel.

Wood flooring also gives you the option of sanding and refinishing your flooring a number of times when needed.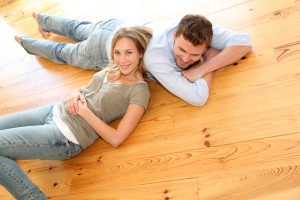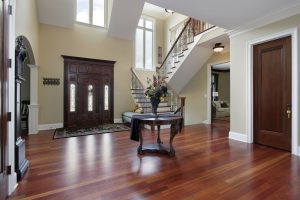 Fitting Real Wood Flooring in Birmingham
Whether you opt for solid real wood flooring in Birmingham or one of our many engineered materials for your interior floors, we strongly advise you get your room space measured by a professional fitter. This way, you can be absolutely certain that you are only paying for exactly the right amount of real wood flooring in Birmingham.
We also advise that you instruct a skilled fitting team to carry out the installation to ensure no waste and a high quality finish.
Value Carpets & Flooring offer an expert measuring and fitting service for wood flooring in Birmingham and Cannock. Having flooring fitted correctly by experienced professionals means that your wooden floors last for as long as they were designed to and are finished to a high standard.
To discuss your requirements and get a quote for wooden flooring in Birmingham, please contact us today! We also supply a great range of laminate flooring and carpets too!